HERE'S AN E-MAIL FROM A FORMER 99 SPEEDWAY RACER...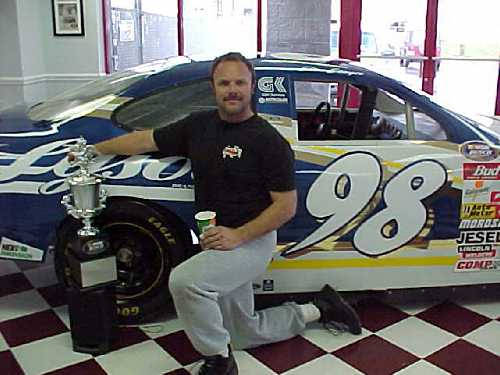 Hello all in Stockton California:
It's been years since I've been at the track I grew up at. 'It's nice
to read about the racing on your Web site. I will try and make a race this
year if time has it.
In 1992 I moved back east with a little help from Ivan Baldwin and
got a job with Darrel Waltrip. We won 3 races that year it was great. In 1994
went to Jeff Burton team at Stalvola brothers racing . Then in 95 helped Ernie
Irvan truck team for a short while. Then went to work at Dale Earnharht
Inc, with Jeff Green driving the Goodwrench Car (Jeff is my best friend now).
Jeff and I left DEI in 1997 to start a new Busch team (Diamondridge
racing) There we won his first race at Las Vegas in a car named after Tony
Quierolo. The car was car # 100 in the stable so I started calling it Quierolo after
Tony. I had to explain to Green where the name come from. As a small boy
Tony was one of my faviotes. Its funny that Jeff Green 100th busch start was in
Las Vegas in a car named after a guy who drove #100 marked 100. It was a big
day in the Busch seires for us.But Gary The owner moved Jeff up to Winston 5
weeks after that and killed a shot at a busch championship. There I went to
Elliott Sadler team #29 Phipps 66 team.We won 3 more times that year in 1998 I
moved to Elton Sawyer team. Won one race in London N.H. I was the jackman there
on race day. I working as Jeff Green's trainer in the morning now and I'm
shop foreman at Lewis Motorsports. I still Jack the car and love back here hope
you like the story!
Doug Biggs
LMS driver at 99 speedway in the 80's
WWWVbuilt@aol.com