---
Originally Published Monday, April 8, 2002
---
Locals like the 'new 99'
By Bill Poindexter
Record Assistant Sports Editor

The vote is in at Stockton 99 Speedway: The newly sealed quarter-mile paved oval is good stuff.
Ron Strmiska Jr. of Manteca gave it a yes vote; so did Dave Byrd of San Jose. Of course, they would feel that way after recording season-opening victories Sunday.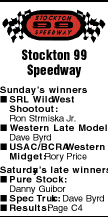 Strmiska led the final 41 laps of the 100-lap SRL Wild West Shootout. Byrd followed his Ultra Wheels Spec Truck win Saturday night with a victory in the first Western Late Model main event.
"The track had a lot more rubber (Sunday). It got really good now that it's cooled down," Byrd said of the Western Late Model main, which finished in cool, comfortable air after sunset. "The sealer is coming into play now. It's getting better."
Byrd, driving for car owner Tim Gillit, led all the way, just as he did Saturday night. His track time the previous night helped.
"I just said, 'Pretend you're doing what you did (Saturday) night,' " he said.
The crowd of 1,583 got a look at a new matchup among the top drivers in Stockton 99's new premier division.
Mark Welch of Orange-vale, who won two NASCAR Pacific Coast Region championships racing in the Grand American Modified division at Stockton 99, and Jeff Belletto of Modesto waged a side-by-side, front-and-back duel for second place.
Belletto won the duel. Welch got inside Belletto coming out of turn 4 on lap 15, the two trading paint, and took over second place until lap 27 of the 30-lap feature, when he got loose in turn 3. Belletto passed on the inside and held on for second.
Strmiska, who qualified fourth, took over second on lap 27 in the Wild West Shootout and stayed on the heels of Boyd, who led from laps 10-58.
Strmiska went outside to pass Boyd and held off the five-time track champion on several restarts to win the opener of a 12-race series. There were seven yellow flags.
"The track stayed good, even as many times as we greased it down," said Strmiska, who won at Stockton 99 for the first time since July 17, 1999. "This is a nice way to start. Hopefully, we can continue on."
USAC/BCRA Midget
John Starks of Puyallup, Wash., was buzzing along until he lost a fight with the pit gate in turn 4.
Starks' demise paved the way for Rory Price of Edmonds, Wash., who drove to his first USAC victory in the 30-lap main.
Starks won Saturday night at Madera Speedway and brought his good fortune to Stockton 99, where he led an assault on the track record in qualifying. Starks was one of five Midget drivers to surpass the standard set by Davey Hamilton on March 14, 1999, and one of four under 13 seconds at 12.742. Hamilton's mark was 13.147.
But Starks got twisted coming out of turn 4 on lap 2 and slammed head-on into the pit gate, sending fans scattering. Starks was not injured in the mishap.
* To reach assistant sports editor Bill Poindexter, phone 546-8289 or e-mail bpoindex@recordnet.com
---