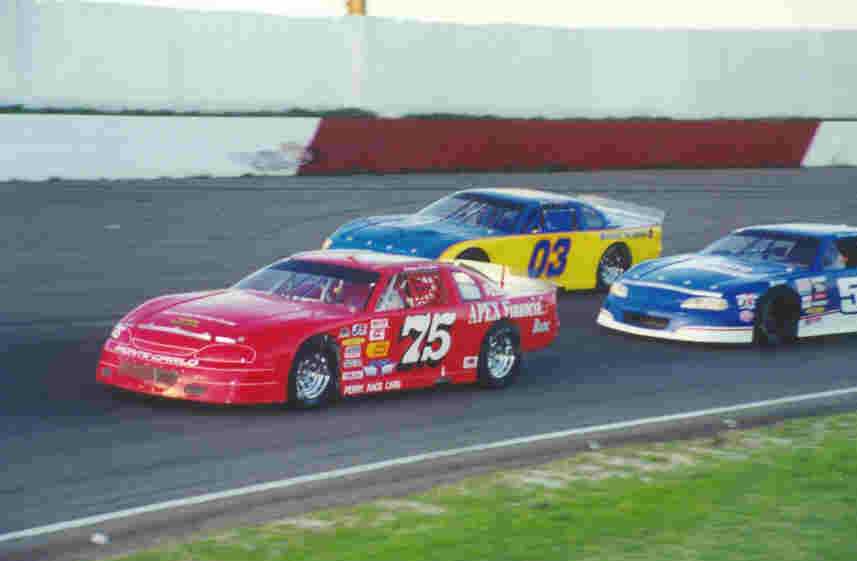 Photo FX
FENSLER UP TO THE CHALLENGE IN 2000
The Shell Tri-Track Series held its opening event of the 2000 season on March 19th at Altamont Raceway Park in Tracy. Jason Fensler of Wilton, California started the season in grand style capturing the pole position with a lap of 18.053 seconds on the ½ mile banked track. Fensler then led the field of 27 cars for the entire 100 lap distance to claim the first victory of the season. Fensler is a former Altamont track champion (1997) in the Grand American Modified division. He also won 3 Tri-Track events there in 1999.
Fensler hopes to keep his early-season streak alive this weekend when the second race of the Shell Tri-Track Challenge Series is contested at Madera Speedway on April 8th. "I am looking forward to the race in Madera", said Fensler. "Since we won our last race there (August 28th), it gives our team an added incentive to go back and do well again".
Race fans who are accustomed to seeing Jason Fensler in the red Chevrolet Monte Carlo with the white number 75 will have to pay close attention this Saturday night at Madera Speedway. "The Tuesday before the race at Altamont we signed a sponsorship deal with the Food 4 Lessâ stores of Northern California", said Fensler. "They will sponsor our run for the championship in the 10 race Tri-Track Challenge Series". This weekend the team will debut the yellow and black colors of their new sponsor along with their new number "4". There are 41 Food 4 Lessâ stores in Northern California including locations in Tracy, Stockton, Lodi, Merced, Clovis, Fresno, and Madera. "We are very excited to have Food 4 Lessâ associated with our team", said Fensler. "A blown motor late in the season ruined a chance to win the series championship last year. Hopefully, the financial support from Food 4 Lessâ will take our program to the next level".
In addition to competing for the championship in the Shell Tri-Track Challenge series, Fensler will also race at Sears Point Raceway on June 24th in the NASCAR Featherlite Southwest Series. "I have never raced this type of car on a road course before", said Fensler. "Fortunately, the team that I will be driving for has a great deal of experience there". Fensler will be driving the number 66 car owned by Jack Lee. Fensler also ran the 66 car at Phoenix International Raceway in November '99 and earlier this year at the Copper World Classic. The next event in the Shell Tri-Track Challenge Series will take place at Stockton 99 Speedway on April 15th.