---
Originally Published Sunday, May 26, 2002
---
Tri-Holiday series begins
Modesto racer wins series first leg
By Bill Poindexter
Record Assistant Sports Editor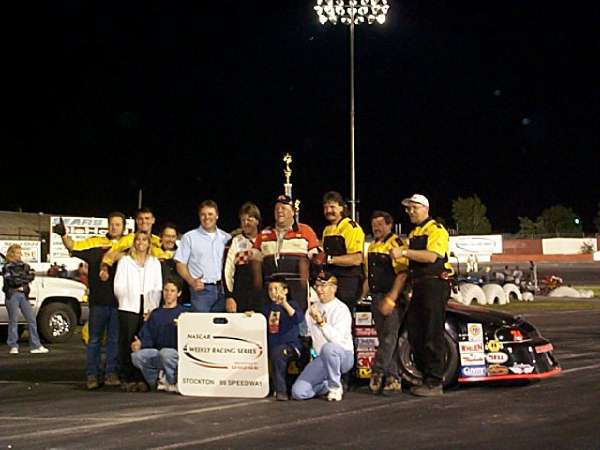 Now they know. The new Western Late Model cars can go 100 laps.
Harry Belletto of Modesto had no problem at all Saturday night at Stockton 99 Speedway. He broke the track record in qualifying won the trophy -- then led the final 62 laps and held off Dave Byrd of San Jose to win the first race in the 2002 Tri-Holiday Classic series.
The victory was Belletto's third in 22 Tri-Holiday races since the series began in 1995. He last won a Tri-Holiday race on July 3, 1999, when he, son Jeff and son Steve finished 1-2-3.
Harry Belletto won 69 Late Model Sportsman features at 99, but this was his first in the new Western Late Model series.
His Chevrolet Monte Carlo literally passed with flying colors. Belletto went 14.114 seconds on the quarter-mile paved oval in qualifying to break the old record of 14.174 set by Harold Rieker of Orangevale on April 27.
Belletto continually built a wide margin but also won several restarts over Byrd, which is no small accomplishment.
"I was the first one to doubt these cars, but you know what? They have a great tire, and they'll go 100 laps, no problem," Belletto said after an adoring crowd of 1,254 cheered the trophy presentation at the start/finish line. "We struggled, though, with the restarts. Not as good as I like it."
Byrd agreed. He felt he had chances to take the lead during the final five-lap sprint but didn't want to risk putting both of them in harm's way. He also was a half-step behind on those many restarts.
"Getting it to the ground was the deal. I just couldn't get it to go," Byrd said. "If we couldn't beat them, we wanted to make them worry. The door was open a few times."
Eddie Laws of Citrus Heights finished third, Mark Welch of Orangevale fourth and Joe Hylton of Manteca fifth.
There were nine yellow and two red flags, the last when Chris Monez of Lodi hit the wall hard in the backstretch on lap 95. He wasn't hurt.
In the BCRA/USAC Midget class, top qualifier Danny Stratton of Fontana slipped inside Marc DeBeaumont of Clayton for the lead at the start of lap 25 and pulled away for the win in the 30-lap main.
DeBeaumont built a big gap over the 23-car field before Stratton and Robby Flock of Temecula closed in with about 10 laps left.
Flock finished second, Shane Scully of Encino was third, and DeBeaumont finished 16th after losing his power steering on the final lap and coasting across the line.
In Pure Stock, Chad Holman of Stockton gave dad David a happy 48th birthday present by winning the 30-lap main.
Holman passed points leader Danny Guibor of Manteca coming out of turn four on lap 24.
Holman's win was his second this season and the fifth of his career, and it snapped Guibor's three-race win streak.
Michael Wendt of Lodi set fast time in Pure Stock for the third time in a row, won the trophy dash and finished third in the main.
* To reach assistant sports editor Bill Poindexter, phone 546-8289 or e-mail bpoindex@recordnet.com
---