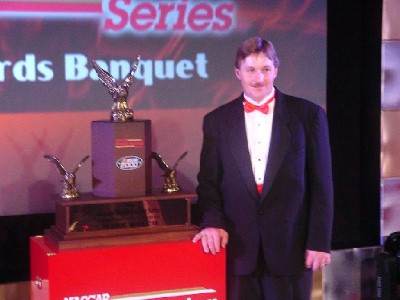 Dear 99 and fans,
On Monday November 13, Mark Welch and his girlfriend Elisha Williams and Ken and Karie Wendt departed Sacramento International Airport for Orlando, Florida. On Tuesday, we visited Daytona beach and the Daytona Speedway and Museum. Wednesday, Mark attended a golf tournament and later that evening we all attended a mixer of all the champions at Walt Disney World's Epcot Center. On Thursday, Mark had a photo session and tuxedo fitting. That day our crew arrived in Orlando. That evening we all attended a Dinner at the Nascar Cafe in Universal Studio's. The Cafe was closed to the public that evening and it was fun getting to know all of the other drivers and crews. On Friday, Mark had a rehersal in the banquet room while the rest of us recuperated from the week's activities. There was a cocktail party and photo opportunities prior to the banquet where the drivers, crews and families were able to take pictures with a backdrop and lighting provided by Nascar. Tha banquet was in the Peabody Hotel, Orlando. The Master of Ceremonies for the evening was Alan Beswick, and Tom Deery presided over the evenings events. The drivers were called up from tenth place to first place, a history was given of the driver and a video was shown that was taped at each drivers track during the year.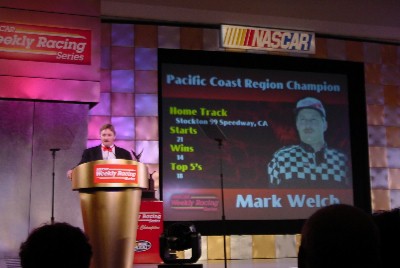 Mark gave a speech ,which true to form, had everybody in the place laughing. He then presented the track's trophy to Ken Clapp and then, to the shock of all of us, asked Elisha Williams up on stage where he proceeded to get down on one knee and asked her to marry him! Elisha walked back to her seat in tears while the whole crowd of some 1000 people clapped and cheered.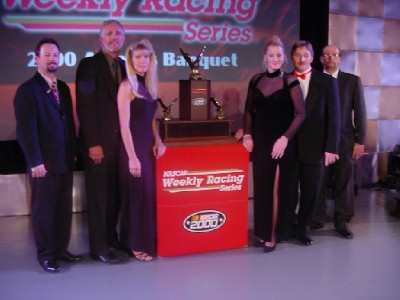 After the banquet and photo's we partied with the Nascar officials and sponsors until 3:00 or 4:00 A.M. It was a once in a lifetime experience for me and I am indeed greatful to Mark Welch and Crew for making it Happen!
Ken Wendt