---
CONSTRUCTION DELAYS PRACTICE & REGISTRATION AT STOCKTON 99
3-18-02
The first roar of racing engines for the 2002 season was scheduled to be heard at Stockton 99 Speedway this coming Saturday, March 23rd, with the speedway racing promoters planning to open the gates for practice and NASCAR registration.
That date has unfortunately been set aside due to an announcement by principal owner Bob Hunefeld that current major improvements could not be finalized in the short time remaining between their construction starting dates and the time set for the first practice.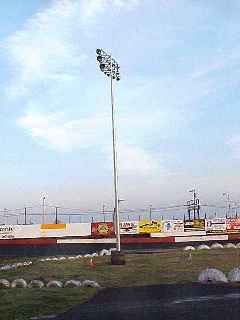 Track Manager Ken Gross will now move to emergency plan B, with a new and extended practice date of Saturday, March 30th. Registration gates will open that day at 11:00 a.m. with on-track practice set to run from 1:00 p.m. "until the new lights come on," says Gross. "We can probably run until 7:00 p.m. or so and give the drivers and fans a chance to see the new lighting system in operation" Gross also sincerely apologized for the inconvenience that will be caused to many for the delay in opening as planned. "As Forrest Gump said, 'It Happens'." Said Gross. "It's too bad we missed out on a large number of great days in mid-February where construction could have been rolling."
Drivers in all divisions intending to compete for NASCAR Regional, and track level championship titles will be on hand to test new cars and check improvements to old ones made over the winter months.
Of highest interest will be the first look at the cars set to compete in the new NASCAR HOTWOOD Western Late Model division. The new class will be the track's premier headliner attraction throughout the 2002 season, vying for NASCAR Regional and local track honors in the NASCAR Weekly Racing Series presented by DODGE & sponsored by C.L. Bryant Union 76 Gas.
The division will feature cars that are in effect a "Limited Late Model." This form of racecar outlaws many expense items formerly used on the fast and sleek Monte Carlos and Luminas. The move to this style of racing is intended to lower costs for competitors and increase car counts to in turn benefit local fans.
Former headliners set to run the new division include Mark Welch of Orangevale, a past NASCAR Regional winner and 99 Speedway champion, Dave Byrd of San Jose, another past Stockton champ, and Jeff Belletto of Modesto, brother and son to past Stockton champions Steve and Harry Belletto. Jeff would like very much to be the first "third family" champion at the storied 56-year old quarter mile oval.
NASCAR Southwest Tour and Winston West driver Mike David of Modesto will share driving duties with the current single lap track record holder, Steve Johnson of Modesto, in one of the new Western Late Models. They in turn will face stiff competition from the likes of Eddie Laws of Citrus Heights, Steve Daniels of Orangevale, Dave Davis of Turlock, and Wes Miller of Delhi among others. Fans will also delight in the return to Stockton action of Kevin Gottula of Modesto, one of the most popular drivers of the mid 80's and early 90's. A total of 36 drivers have requested car numbers for the coming season.
Practice will also be held for the Speedway's regular Grand American and Pure Stock divisions, plus any and all of the supplementary divisions that will appear on a limited basis throughout the year such as the Legends of the Pacific, USAC & BCRA Midgets, Ultrawheel Super Trucks, Pro Four Trucks, and Baby Grands. Several NASCAR Featherlite Southwest Tour teams are expected to be on hand to prepare for their Stockton race date of April 27th.
The Speedway car show that was set to follow the original first practice date will still be held Sunday, March 24th in front of the Stockton 99 Speedway NASCAR Souvenir shop located in the Lincoln Center Plaza shopping center at 6315 Pacific Avenue in the port city of Stockton.
Opening day action for the 2002 season is set to start with a two-day show on April 6th & 7th. The events will feature USAC/BCRA Midgets, Ultrawheel Super Trucks, HOTWOOD Western Late Models, Legends, Grand Americans, Pure Stocks, Pro-4 Trucks, and the first of four season events for the SRL Late Model Wild West Shootout Series.