Taken from The RECORDS Web Page 5/5/00, http://www.recordnet.com/daily/sports/sports.htmll
Originally Published Friday, May 5, 2000
---
Gillit, Strandwold won't spin their wheels after split
By Bill Poindexter
Record Assistant Sports Editor
OK, everybody take a deep breath and relax now.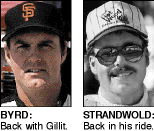 The parting of the ways between car owner Tim Gillit of Lathrop and driver Bob Strandwold of Modesto surely sent a shock through the Late Model Sportsman and Stockton 99 Speedway racing circles because of its abruptness.
But it's not like either party has a jammed transmission. The Gillit camp has plans, and so does Strandwold. The news couldn't be much better for both.
Dave Byrd will return to the cockpit to drive the No. 0 Gillit car for the first leg of the Tri-Holiday Classic on May 27 at Stockton 99. Strandwold will drive his old Southwest Tour car in the Tri-Track Chal-lenge race May 13 at Madera Speedway, and he's talking to Phil Perry of Rocklin about teaming up to run other Tri-Track events and assembling a car.
Byrd was at Stockton 99 on Saturday night for the Late Model Sportsman 50-lapper, but don't start thinking anything sneaky. He said Thursday he went to the track because he finally had a free night to come to town to watch his former team and his friend, Strandwold. But when Byrd strolled to the pits afterward, Strandwold was gone.
''Tim said Bob had left already. He wasn't sure what the situation was,'' Byrd said. ''He called Monday to see if I was interested in running the Memorial Day race. We'll pretty much do one race and see how things go.''
Don't count on Byrd resembling a little old man in a jalopy. The Gillit-Byrd combination won three consecutive track championships -- at Stockton 99 in 1994 and '96 and at Altamont Raceway Park in '95 -- and the first Tri-Track Challenge championship in 1997. They won more than 30 main events from 1994-96.
''We did good. There's no reason we can't do good again. We seem to work good together,'' Byrd said of Gillit, himself a two-time track champion at Stockton 99. ''He taught me good. He knows how it's done. Most of the time, he's right.''
Byrd left the team to go Tour racing, but in February 1999, he was involved in an accident in Phoenix that left him with burns on his face, arms and left side. Byrd has been racing Late Model cars on dirt tracks up and down the West Coast. He said he's won ''10 or 12 races,'' including one in Laughlin, Nev., earned several second- and third-place finishes and set a track record in Santa Maria. But the Tri-Holiday will be Byrd's first race on pavement since the accident.
Meanwhile, Strandwold still has a financial interest in his former Tour car, the Dupont Jeff Gordon lookalike driven by 21-year-old Greg Anderson of Roseville. Strandwold will drive the car May 13 at Madera, but Anderson will take the wheel May 20-21, when the NASCAR Winston West Series returns to Laguna Seca Raceway for the first time since 1981. Strandwold's brother, Jeff, will run the show, and Strandwold will have his original pit crew. Additionally, he and Perry are trying ''to work out a deal on getting a car put back together.
''I'll run it. He'll maintain it,'' Strandwold said.
The Gillit-Strandwold team didn't dominate like Gillit and Byrd did, but they had their moments. Strandwold won four Tri-Track races, including three in 1998, when he finished second in the series by two points to Mike David of Modesto. In 24 years, Strandwold has 19 victories at Stockton 99, which ranks 11th all-time at the track, and 95 top-five finishes, which ranks seventh.
''Tim and Jackie Gillit are great people. They run a real good operation,'' Strandwold said. ''Mike Shafer and Doug Shafer spent hours and hours and hours on that car -- weekends, everything. They were great people to work with.''
* To reach assistant sports editor Bill Poindexter, phone 546-8289 or e-mail sports@recordnet.com