------------------------------- Originally Published Friday, June 15, 2001 ----------------------------------
Local Notebook
Rookies make noise at 99
They're in contention in various points standings
By Bill Poindexter
Record Assistant Sports Editor
After five years in Stockton 99 Speedway's beginner class, Jeff Lovelace of Stockton figured he wasn't a beginner anymore. ''Pure Stock is a beginner class. It wasn't fair to the beginners,'' he said.
So Lovelace moved up a notch to the Pro Stock class this season and is one of several rookies who are high in the points standings at the track. Lovelace is seven points out of second place. Eric Schmidt of Roseville and Joey Zampa of Napa are fourth and sixth in points in Late Model Sportsman, and Jay Linstroth of Citrus Heights is fifth in Grand American Modified.
Lovelace purchased a car from defending champ and current points leader Cary Treadway of Stockton, and away he went. Lovelace won his heat race and the trophy dash and finished third in the main event on April 28. He scored his first Pro Stock main-event victory May 5 by outracing Treadway, and he finished second to Treadway last Saturday night.
Lovelace remembers the victory well.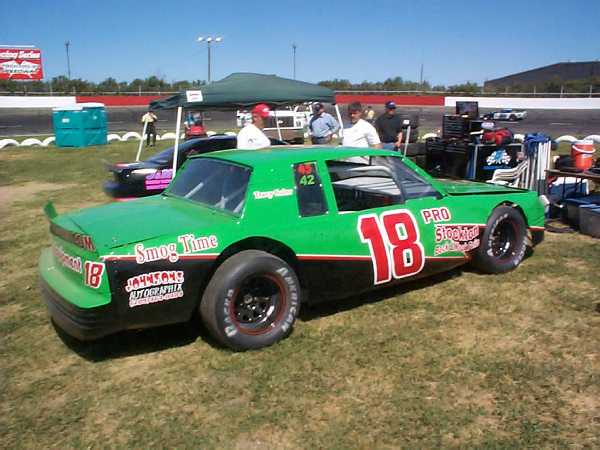 ''I started on the pole. (Treadway) got me on a restart, then I got him, it went back and forth a few times, and the last time we got a restart, I held him off for about eight laps,'' Lovelace said. ''I bought my car from him. The night I won, Cary helped me set it up. He's been a big supporter of this.''
Lovelace started well at Stockton 99. He was the 1997 Pure Stock rookie of the year after finishing fifth in points. He won one feature last year and was fourth in points when his season ended prematurely.
''My car was claimed, I denied the claim, and (officials) sent me home and took my points,'' Lovelace said.
This season has worked out fine for Lovelace. He's received help from several people, including car co-owner Ronnie Ayers and his fellow drivers.
''There's a lot of difference (in Pro Stock),'' Lovelace said. ''The car goes faster, it has to be set up. You have to put in some long nights. There's a lot of work involved.
Twin mains again
Stockton 99 will have two 38-lap Late Model Sportsman mains for the second Saturday in a row. That means six more chances for drivers to qualify for the second leg of the Tri-Holiday Classic on July 3.
Harry Belletto, Steve Belletto, Jeff Belletto, Bob Strandwold, Dave Byrd and Eric Schmidt qualified last Saturday.
Ron Strmiska Jr. of Manteca won't race Saturday. Last Saturday, Strmiska suffered a broken front brake line and spun into the wall, which knocked the fuel cell loose and caused his car to burst into flames.
Strmiska wasn't injured, and although the car was close to being repaired for Saturday's race, it won't be ready in time.
''At the time, I didn't think it was as bad as it looked until I saw the video,'' Strmiska said. ''The fire came inside on me a little bit, but I didn't realize the whole car caught.''
Still No. 1 in region
Two-time defending NASCAR Pacific Coast Region champion Mark Welch of Orangevale is on top again in his quest for a record third title in a row.
Welch won his two previous regional crowns while racing at Stockton 99. When the track brought back the Late Model Sportsman class as its premier division this year, Welch took his Grand American Modified screamer to Madera Speedway. He has three victories and six top-five finishes in six starts this season for an .8633 Competition Performance Index.
Late Model drivers Dave Byrd of Stockton 99 and Troy Shirk of Altamont Raceway Park are sixth and eighth. Byrd has one win and seven top-five finishes in seven events at Stockton. Shirk has one victory and five top-five finishes in seven starts.
Record Staff Writer Erin Thompson contributed to this report.
* To reach assistant sports editor Bill Poindexter, phone 546-8289 or e-mail sports@recordnet.com