NATHAN TUCKER TAMES The WILD WEST SHOOTOUT at STOCKTON 99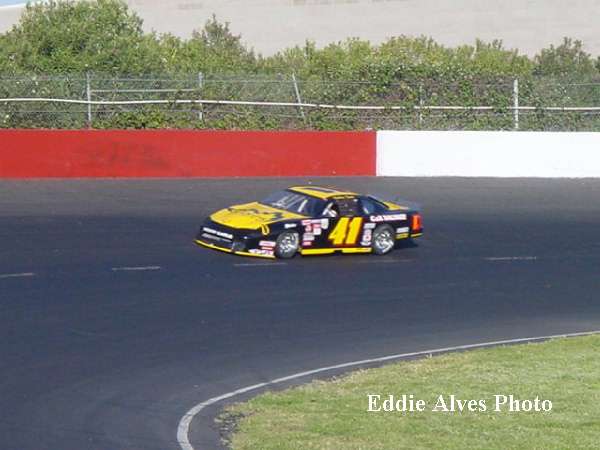 Justin Loyear SRL Media Relations
Stockton CA (May 11) - Nathan Tucker, the 2001 SRL Wild West Shootout champion proved tonight that not only he is ready to contend for back to back titles, but also his championship winning crew.
"During practice, we had a valve spring break in our engine," said Tucker. "Fortunately, Ray Lawson Jr. had a spare one and he was nice enough to let us use it."
After Tucker's team found and fixed the problem he went on to avoid every accident in the main event and bring his car home almost completely intact.
David Philpott, who was the pole sitter, was the early leader of the race. He led laps 1 through 35 until Zampa took over for 14 laps. A brief lead by John Gaalswyk was ended when Tucker made his move when the race was restarted on lap after then leader Zampa spun out in turn two.
"John [Gaalswyk] held his line on the first lap of the restart, but on the second lap, I was able to get by him on the outside and out-position him going into turn one," said Tucker.
Two red flag incidents, one involving Gene Garrett and CJ Jahnke in a head on collision after Garrett spun out on the front stretch, and the other when John Gaalskwyck ran over a piece of lead and spilled a large amount of fluid all over the racetrack, along with 8 caution periods, caused the race to be shortened to 75 laps on lap 65, which created a 10 lap, single file shootout to the finish.
On lap 73 however, a caution involving Tim Stratmayer and Rick Ruzbasky demanded that the race be deemed complete on lap 74 when the final caution was displayed.
Only six cars were left on the lead lap as almost half the field was not on the racetrack at the end of the event. Ron Strmiska finished in second place, followed by Jeff Anthony in third, Troy Ermish in fourth, and David Philpott in fifth.
---