A child's dream Bellettos make young cancer patient's day with racing tour
By Tony Acosta
Record Staff Writer
Published Tuesday, December 21, 2004
It wasn't hard for veteran stock car driver Harry Belletto and his family to fall in love with 6-year-old Matthew Tyler Anderson of Acampo.
Belletto, a three-time Late Model champion at Stockton 99 Speedway, and his three sons gave young Matthew and his family a day to remember with a two-hour visit to the Bellettos' Modesto home and garage, where the family works on their four cars, on Dec. 4.
"He's real upbeat, a really nice kid with a real good attitude,'' said Harry Belletto, a burly mountain of a man.
Just like Belletto, who is aggressive on the race track, little Matthew Anderson is a fighter. And for most of his life, he's had to be, because he's had to deal with a major physical setback.
Since he was 18 months old, Matthew has been living with cancer -- in particular, a multi-focal astro cytoma glioma, a form of brain tumor, according to his aunt, Susan Domser.
"He has had fluid drainage shunts put into his head on two separate occasions and three kinds of chemotherapy,'' said Domser, who also mentioned Matthew is undergoing radiation therapy.
Matthew, a kindergarten student at Victor School, is now struggling with the tumor and the prognosis is a grim one. This is why Domser and her husband, Mal, who are both huge racing fans and regulars at Stockton 99 Speedway, reached out to Belletto to see if he could come to Acampo to cheer up little Matthew, a fan of NASCAR superstars Tony Stewart and Dale Earnhardt Jr.
It didn't take very long for Belletto to say yes.
"Susan called me up at the shop and talked about her nephew,'' Belletto said. "She and her husband are fans of mine and the kid's a huge NASCAR fan. She was wondering if we could do something to make Matthew's day.
"At first they wanted me to drive my car up (Highway 99) to Acampo. I didn't have a problem doing that but I didn't relish the idea of going to jail,'' he laughed.
After a few phone calls, Belletto arranged to have Matthew, his grandparents Clayton and Jean Ann Beck, the Domsers, and several others transported to the Belletto compound in Modesto via limousine, courtesy of Belletto's good friend Chris McDonald.
"Chris didn't charge anything and he said 'Let's do this,' " Belletto said, "Chris picked up a dozen of them.''
"When Chris came to the house, Matthew asked when the limo came, 'What's this for?' and the driver said, 'This is for you,' ''Domser said. "Matthew then asked 'This is for me?' and gave Chris a big hug.''
And boy, did Matthew have a surprise awaiting him in Modesto.
Harry and his sons Rick, Steve and Jeff had their cars lined up in a row in front of the Belletto home when the limousine pulled up. Harry's wife Carol and daughter Janna were also present.
From there, the group was treated to a tour of the Belletto's racing garage, where the family is constructing a car. Matthew and his family also had some goodies waiting as well.
"One of our pizza sponsors donated pizzas, and we gave him some autographed t-shirts and caps,'' Belletto said. "My boys enjoyed talking with him.''
Domser said of her nephew, "When we arrived in Modesto, Matthew said 'Awesome!' over and over again. That's his favorite word.''
Belletto also gave Matthew a nice-sized remote racing car and one of his old first-place trophies.
"Matthew told him, 'You have a lot of trophies,' " Domser said. "Without hesitation, Harry got on a stepladder, dusted off a first-place trophy and handed it to Matthew.''
Belletto said, "I think he freaked out after he got the trophy.''
Originally the plan was to take Matthew on a ride in Harry's car, but Belletto said, "His skin was sensitive from all the chemotherapy, so the family changed their mind about the ride. ... Bottom line was we didn't want him to get hurt. But he didn't seem to care. We just let him sit in the car seat for a few minutes.''
Beck was pleased that Matthew was able to visit with the Bellettos.
"I appreciate the fact that Matthew is experiencing whatever he can,'' Beck said. "We're praying for a miracle... But if we can do anything like this for him, it's great.''
Belletto said Matthew's sunny attitude was a lesson for all present.
"There's no way you could tell he was sick,'' Belletto said. "He's just a regular kid, very happy go-lucky.''
Beck said Matthew is friendly with anybody he encounters. Even more, he faces every medical appointment he goes to with a positive outlook and is friendly and cheerful to all.
"He has a great spirit and has never once asked not to go to an appointment," Beck said. "And all his friends are old people. In the waiting room, he does tricks with his yo-yo and makes everybody laugh. ... He makes everybody happy and doesn't complain about anything.''
Even during the Christmas rush at the stores, Beck said, "When he's in a store, he walks up to people and says 'Merry Christmas!'
Belletto was taken by Matthew's situation.
"My dad died of cancer, so I have a special place in my heart for cancer patients,'' he said. "Our family has helped with a walk-a-thon at Johansen High, brought the car there and signed autographs, and we've made donations to the American Cancer Society. The community has been good to me and my family, and I don't mind doing something for them. Everybody has known someone touched by cancer.''
There is some good news, according to Domser. "The most recent MRI revealed shrinkage of the tumor in five areas of his brain,'' she said. "Although this is a good report, his most recent setback is the development of a cyst that will have to be surgically removed.''
After the holidays, Matthew will have to undergo additional treatment at Children's Hospital in Oakland, Domser said. From there, it's anybody's guess what will happen.
But for one afternoon, Matthew had a chance to visit with a local racing legend, something he'll never forget.
Domser said, "It was very touching, and this puts your faith back in people. It was so greatly appreciated. My husband and I wanted to something for Matthew, so we brought him NASCAR. ... The Bellettos went way beyond what they had to.''
---
* To reach reporter Tony Acosta, phone (209) 546-8287 or e-mail tacosta@recordnet.com
---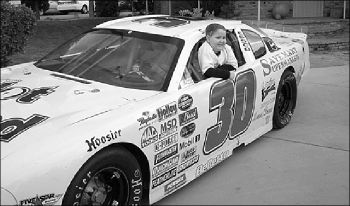 Photos courtesy of Susan Domser
IN THE HOT SEAT: Matthew Anderson, 6, gets the feel of the driver's seat of a Belletto car recently when the youngster visited the Modesto racing compound.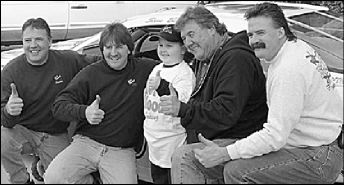 BIG THUMBS UP: Matthew got the royal treatment during his visit with the Bellettos (from left to right) Steve, Jeff, Harry and Rick.
---