Race-car lessons
No. 04 doesn't have to win at speedway to be valuable
By Bill Poindexter
Record Staff Writer
Published Friday, May 21, 2004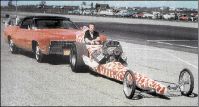 STOCKTON -- Steve Foster envisioned a color-coordinated team in Franklin High School green and gold with a big, menacing yellowjacket -- the school mascot -- painted on his Western Late Model race car.
What he has is a purple Chevrolet Lumina featuring a likeness of the Dragonball Z character Goku.
"He's the most powerful guy on the show," junior Hector Guerra said, striking the pose that tells the story.
Guerra and fellow junior Jeremy Akers stand and gaze up at the car, which is resting on lifts waiting for attention. They are ready and willing to oblige. It may be the slowest car in the Late Model class at Stockton 99 Speedway, but it's theirs, and it serves a more important purpose than any other car at the track.
The No. 04 car isn't a top-five qualifier or finisher. It isn't spoiled with thousands of dollars worth of parts, and it won't challenge for a track championship this season. It's more a math problem, science project and lesson in physics and chemistry.
Foster, who teaches wood shop,
drives the car. The Lumina is maintained by students. Akers, Guerra and senior Steve Girling supervise a crew of kids

from the basic and advanced auto, wood, metal and machine shop classes that handles every chore -- from installing a new engine for Saturday night's NASCAR Weekly Series double-points program to checking tire pressure.
"It teaches you that you have to work fast and work good," Akers said.
Akers, Girling and Guerra are a talented trio. Girling has served as Foster's spotter at the races, and Akers has worked with his uncle, former Late Model driver John Graham. But Foster lets every student get his or her hands dirty, including several special-
education kids.
"There are nothing but positives by doing this," said Foster, who has his wood shop class building a mini-chopper, drag boat, hovercraft and small airplane. "It's a very good instrument for learning and demonstrating, as well as the motivational factor."
While the focus of schools is on reading, writing and arithmetic, Foster and his fellow shop teachers point to the fact some kids just don't excel in those areas. They marvel at the initiative, focus and performance those same students display when tools are put in their hands and they are forced to use their brains.
Said teacher Richard Rocero, who has a Chevy Vega for drag racing ready for his students to work on: "You get them
in here working with their hands, they're just as bright as everyone else."
Foster says maintaining the race car is a daily lesson in several subjects, and some of the kids don't even realize it.
"Racing is all geometry. It's no less a science than rockets or something else," Foster said. "It's weight and balance, gear ratios, shifting on four points, centrifugal force, weight, matter, physics, chemistry."
"We try to do whatever interests the kids," machine shop instructor David Morelli said. "It gets them thinking and keeps them here."
The main tasks on this day, according to Guerra, are to "rivet down everything," install a new power steering pump and fix a transmission leak.
"It's fun coming to school to work on the race car," Guerra said. "That's all we do in class is work on the race car. Everything in the car, we do."
---
* To reach assistant sports editor Bill Poindexter, phone (209) 546-8289 or e-mail bpoindex@recordnet.com
Franklin High freebie
Stockton 99 Speedway co-owner Ken Clapp said Wednesday that anyone from Franklin High School with a student body card will be admitted free of charge for Saturday night's NASCAR Weekly Series program.