Open wheel star Sarah Fisher and second-year NASCAR driver Allison Duncan will participate in the
Drive for Diversity program with the Bill McAnally Racing/Richard Childress Racing Development Program in the NASCAR Grand National Division, West Series and NASCAR Dodge Weekly Series (NDWS), respectively.

Fisher will pilot the No. 20 BMR/RCR Chevrolet Monte Carlo in the NASCAR West Series' season opener on January 30th at Phoenix International Raceway in Avondale, Ariz. Duncan will drive the No. 20 BMR/RCR Chevrolet Monte Carlo in NDWS events at Stockton 99 Speedway in Stockton, California. Sponsors for both teams will be announced in the coming weeks.

"When the Drive for Diversity program started, I thought right off that Bill would be someone great to work with because of the first-class operation he has," said Richard Childress, president and CEO of RCR. "We worked together in the past with Clint Bowyer and Kerry Earnhardt so we decided to run Sarah in a race in Phoenix last year to see if that was a direction we wanted to go. His feedback was that she has a lot of potential in a stock car. I have a lot of hopes on her doing well and we might run her in some Busch races this year.

"We're taking a look at Allison in the Late Model Series and we think she's going to do a great job. She already has a great deal of experience with road racing and sports cars and she obviously adapted quickly to stock cars with her fifth-place finish in the weekly series standings at Hickory (N.C.) Motor Speedway. Running Allison in a full season of the NASCAR Dodge Weekly Series with Bill McAnally Racing should give us an even better idea of her potential."

Fisher's participation in Drive for Diversity marks the first time the program has expanded its driver development efforts outside of the NASCAR Dodge Weekly Series. Notably, Fisher is the third woman to ever start the Indianapolis 500, when she accomplished that feat in May 2000. She was voted a three-time Most Popular Driver in the Indy Racing League.

"The Drive for Diversity program gives talented drivers and crew members an opportunity to prove themselves as members of the NASCAR community," said Fisher. "Above and beyond this, I am very excited to begin my stock car racing career with a West Coast-based team the caliber of Bill McAnally Racing is and be in association with Richard Childress Racing (RCR). It's an indescribable opportunity for me as a driver."

With a top-five finish in the Hickory Motor Speedway year-end points standings under her belt, The San Rafael, California native was chosen by BMR/RCR team representatives at the 2005 Drive for Diversity Driver Combine Testing and Evaluation, held last fall at the Motor Mile Speedway in Radford, Va.

"The Drive for Diversity program is an incredible opportunity for me to race for two of NASCAR's top teams, Bill McAnally Racing and Richard Childress Racing," said Duncan. "It's every driver's dream. I'm excited about the upcoming season and plan on winning the championship at the Stockton 99 Speedway."

BMR was founded in 1986 by former NASCAR Grand National Division West Series driver Bill McAnally. Located in Rocklin, Calif., BMR won three consecutive championships and recorded 24 victories in the series. Alumni drivers include current RCR drivers Clint Bowyer and Kerry Earnhardt.

"It's great to be a part of the Drive for Diversity Program and be in partnership in this endeavor with Richard Childress Racing," said McAnally. "Sarah Fisher is an incredible talent and brings a lot to both our race program at BMR but also the NASCAR Grand National Division West Series. We look forward to a very successful race season.

"We had the opportunity to watch Allison Duncan with 18 others at Motor Mile Speedway in Virginia showcase their driving abilities. She is great in the car and is a stand out person. She has what it takes to make in it NASCAR. We at BMR are happy to be a part of her success."

Allison Duncan
My Dream of Making It


Posted by: Allison Duncan - 9/9/2004 - 11:47:35 AM EST
If you'd asked me a year ago if I ever thought companies like Sunoco, Miller Brewing or Domino's Pizza would ever sponsor me, I would have answered "Hopefully one day when I make it to the Busch Series and Nextel Cup I will be able to attract sponsors like that. That's every race car driver's dream!"
Well, that day turned out to be a lot closer than I thought, as far as the sponsorship goes at least. (I don't foresee anyone jumping up and offering me a Cup ride anytime soon!) However my career got a huge boost when I was selected as a driver for Access Marketing & Communications' Drive for Diversity Program.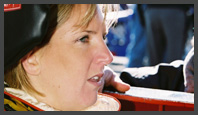 The knowledge and experience I have gained so far this season, both on and off the track, will help me throughout the rest of my career. Not to mention I am now officially trained in the art of Domino's pizza making! One of the awards I will cherish the most from my 2004 racing season has to be the golden spoodle I was given upon graduating from Domino's pizza making school! (A spoodle is a Domino's pizza sauce ladle.)
My second season racing a late model has developed into a very interesting and exciting season. I can't wait to top it all off by adding my name to the NASCAR history books with a win at the famed Hickory Motor Speedway - the Birthplace of the NASCAR Stars!