<![if !vml]>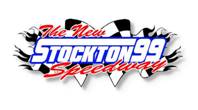 <![endif]>2011 Local Tracks
STOCKTON 99 SPEEDWAY
2011 Schedule Last race:
WEEKLY RACE RECAP
Manteca teen caught up in wreckage in Stockton 99 main event
By Scott Niendorf
Record Correspondent
August 21, 2011 12:00 AM
STOCKTON - Don't tell Manteca's Jacob Gomes it wasn't demolition derby night Saturday at Stockton 99 Speedway.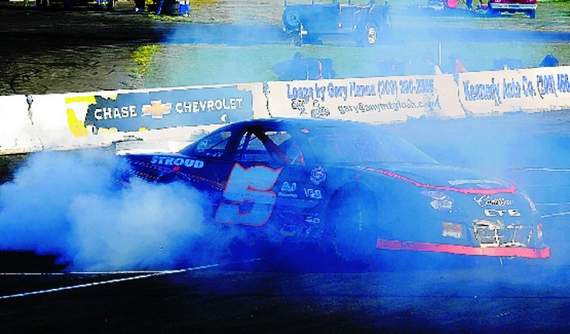 Bob Kuebler spins out during Legends qualifying Saturday at Stockton 99 Speedway.CALIXTRO ROMIAS/The Record
The 18-year-old who entered as the Supermodified Racing League's Southwest Tour points leader had a front row seat to abundant contact and took some himself in a bruising 135-lap main event that endured 10 cautions, including a yellow flag on the first lap.
Prunedale's Jim Pettit survived for the win ahead of Chatsworth's Keith Spangler in front of an estimated crowd of 1,500 spectators. Pettit moved into second in the season points behind Frazier Park's M.K. Kanke, who finished third.
"I got driven into a fence (early) and everything was bent and nothing was straight after that," said Gomes, who unofficially finished 15th. "This was our worst finish of the year. I guess we're still in contention."
In earlier action, Tracy's Jeremy Wood won the first 35-lap Legends of the Pacific main event by making his way through a crowded 20-car field from his 18th position at the start to earn a victory ahead of Rocklin's Robbie Czub.
"Starting from that far back, I knew I needed to be aggressive," Wood said. "The opportunities came up for me to pass some guys and I put the car in some holes I probably didn't have any business being in, but it worked."
Wood put himself in position to win a possible $500 bonus for winning both mains, but Czub parlayed a yellow restart on the 25th lap from the outside of the front row alongside Wood and then held on for the win in the second main.
"Jeremy and I are good friends," Czub said. "I wouldn't be out here racing against him if he hadn't given me all the pointers (on how to drive)."
Wood said he knew he was at a disadvantage starting on the inside on the restart.
"The outside line gives you better momentum coming out of turns three and four, and he just drove an awesome race. I enjoy racing with him."
Clovis' Justin Kawahata took advantage of a yellow on the 14th lap to take the lead and then held off dash winner David Goodwill of Napa for the checkered flag in the Northern California Modified Association main event. Goodwill took the lead on the fourth lap but spun out with Denny Burrell ten laps later, sending both to the rear from where they couldn't recover.
Chris Straka of Cobb took the checkered flag in the Pro-4 Modifieds main event ahead of Santa Rosa's Greg VanCleave.
Dash winners also included Windsor's Neo Nuno in the Pro-4 Modifieds and Tracy's Jeremy Wood in the Legends.
Racing returns to Stockton 99 on Sept. 3 with twin Western Late Models 50lap main events, as well as races with Grand American Modifieds, Super Stocks, Basically Four Cylinders and Legends of the Pacific.

Attn. Visitors; Rooms available at Stockton 99's New Official Hotel!