<![if !vml]>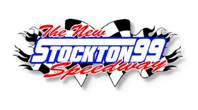 <![endif]>2013 Local Tracks
STOCKTON 99 SPEEDWAY
2013 Schedule Last race:
WEEKLY RACE RECAP
Thorn Doubles in SRL Opener
Familiar look as Stockton 99 opens its season
Record Staff Writer
April 06, 2013 12:00 AM
STOCKTON - The drivers competing in the Supermodified Racing League's Southwest Tour face the same problem they had the last time they raced at Stockton 99 Speedway: Finding a way to stop Derek Thorn.
The 25-year-old Lakeport resident won two out of three races in Stockton last season on his way to the series championship, and he's viewed as the racer to beat in today's Strandwold Brothers 125. The gates open at 4 p.m., with racing scheduled to begin at 6 p.m.
Last season, Thorn won at Stockton 99 in June and August en route to six tour victories. He led 546 of 1,275 laps during last season and opened 2013 with a win on March 16 in Madera.
Today's Races
SRL Southwest Tour
Green flag: 6 p.m., Stockton 99 Speedway
Featured event: Southwest Tour's Strandwold Bros. 125
Information: (209) 466-9999; stockton99.com
"He's got something figured out the rest of us don't right now," Manteca driver Ross Strmiska said. "He's got a fast car and luck on his side. But we're all working hard to catch him."
Strmiska and fellow Mantecan Jacob Gomes hope to stop Thorn on their home track. Gomes won last season's Southwest Tour event and has two series wins in Stockton.
"We're focusing on the car more and trying to figure out more stuff to beat him," Gomes said. "I think we have a really good shot of winning."
In the Madera race, Gomes was involved in an early altercation, went to the back of the field and came back to finish eighth.
"We did OK in Madera, considering the situation," Gomes said. "We had a good car."
Strmiska was running fourth in Madera with 40 laps left in the 150-lap race when he was forced to retire because of mechanical difficulties. While it was frustrating, Strmiska found several reasons for optimism.
"Despite the bad luck, I know we have a good, competitive car," Strmiska said. "I don't think it was a winning car that night, but it was at least a third-place car.
"And I feel great about coming into Stockton. It's my home track, and I think we've done some things to improve the car."
The Southwest Tour also will run on Aug. 17 at Stockton.
The Grand American Modifieds again will be the track's premier division in the NASCAR Whelen All-American Series and will run today along with the Legends and Pro-4 Modifieds. Other major events include the NASCAR K&N Pro Series West on May 4 and the Tri-Holiday Classic on May 25, July 6 and Aug. 31.
Contact reporter Scott Linesburgh at (209) 546-8281 or slinesburgh@recordnet.com.
Attn. Visitors; Rooms available at Stockton 99's New Official Hotel!