<![if !vml]>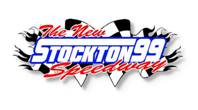 <![endif]>2013 Local Tracks
STOCKTON 99 SPEEDWAY
2013 Schedule Last race:
WEEKLY RACE RECAP
Points titles up for grabs in 99 finale
Record Staff Writer
October 04, 2013 12:00 AM
STOCKTON - Matt Scott has a chance to put the finishing touches on a near-perfect season.
The NASCAR Western Late Model driver from Pine Grove has won nine of 10 main events and has a sizeable points lead entering the regular-season finale, the Fall Classic 150 at 6 p.m. Saturday at Stockton 99 Speedway. The Grand American Modifieds, Super Stocks, Pure stocks, B-4s and Pro-4 Modifieds divisions also will compete.
Scott finally lost a main event when Michael Wendt of Lodi won on Sept. 14. Scott has built a 544-492 lead over Stanislav Osterlund, but Saturday is a double-points event, worth 100 points for a win instead of 50.
Scott believes he knows what he has to do to win.
"If I'm in the top 10, I wrap up the championship," Scott said. "I'm going to approach it like any other race. I'll go out there and try to win it. That's all I ever do."
The races for the titles in the premier Grand American Modified and the Super Stock classes are tight.
Mike Regelman leads the GAM battle with Jason Philpott, 802-792. Philpott has five victories to one for Regelman, but the points leader has been more consistent, with 13 top-five finishes in 18 races. Jason Aguirre has a 504-489 lead over Chad Holman in the Super Stocks.
Ben Lewis II of Stockton has a 77-point lead in the Pure Stocks, and Brad Mast leads Dave Kong, 599-585, in the B-4s.
Contact reporter Scott Linesburgh at (209) 546-8281 or slinesburgh@recordnet.com.