<![if !vml]>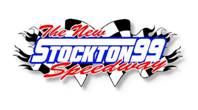 <![endif]>2014 Local Tracks
STOCKTON 99 SPEEDWAY
2014 Schedule Last race:
WEEKLY RACE RECAP
Ronald Floyd Strmiska Sr.
June 12, 1941 - September 3, 2014
Manteca racing champion's lasting legacy Strmiska Sr.
passed love of the sport to younger generations
By Scott Linesburgh Record Staff Writer Posted Sep. 5, 2014 @ 10:00 pm
STOCKTON – Ron Strmiska Sr. embarked upon his motorsports career 45 years ago with a 1957 Chevy, a gallon of pink

paint and the desire to drive fast. Along the way he won plenty of races and became the patriarch of one of San Joaquin County's best-known racing families. Strmiska Sr., a two-time Stockton 99 Speedway champion known as the "Manteca Missile," passed away due to complications from cancer on Wednesday. He was 73.
There will be a tribute in his honor tonight at Stockton 99, where he debuted in 1969. He won the NASCAR Late Model crown at Stockton 99 in 1978-79, but the legacy he cared about most was passing the love of
the sport on to his family. Ron Sr.'s grandson, Robert, is the car chief for NASCAR Nationwide driver Ty Dillon, who races for Richard Childress Racing. Another grandson, Ross Strmiska, currently competes on the Southwest Tour using his grandfather's No. 90. "My dad always wanted to drive fast," said his son, Ron
Strmiska Jr. "He once told me that he got his first speeding ticket when he was 14, before he had a license. And he got to do what he loved and passed it on to us." During the height of his career, it was hard to miss Strmiska Sr.'s bright-pink car. His fans often showed up at tracks wearing pink T-shirts. His son said the decision to go pink was more about economics than style, at least in the beginning. "The way it was explained to me, my father and my uncle, Wayne Smith, had cars and somebody donated two gallons of paint," Strmiska Jr. said. "One was yellow, one was pink. My Dad took the pink, and it just took off." Strmiska Sr., who was a welder for the South San Joaquin Irrigation District before he retired, had the reputation as a fierce competitor who was always willing to help his fellow drivers.

"On the track, he was all go," said driver/car owner David Phillpott of Tracy, who knew him for more than 40 years. "In the pits, if you needed something, he'd help. The whole family is that way. This is a terrible loss." Wayne Pierce of Stockton, the track announcer at Stockton 99, grew up going to races at Stockton 99 and later was a driver. He and his family became close to the Strmiskas, but he chuckled when remembering his first impression of Strmiska Sr. "At first, I didn't like him. I mean, what grown man has a pink car, and he was known to have a temper at times," Pierce said. "But people said to get to know him. And I'm so glad I did. What a wonderful guy, we spent a lot of time together before and after our driving days were over. We will all miss him."
In February of 2009, Ron Strmiska, Sr. was inducted into the Manteca Sports Heroes Hall of Distinction.
There will be a celebration of life 11 a.m. Wednesday at PL Fry Funeral Home, located at 290 North Union Road in Manteca. Contact reporter Scott Linesburgh at (209) 546-8281 or slinesburgh@recordnet.com. Follow him at recordnet.com/sportsblog and on Twitter @ScottLinesburgh.