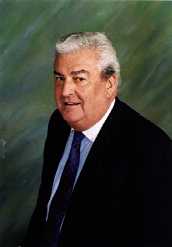 Ken Clapp
Stockton 99 Speedway
Co-Owner , Promoter
By Jim Shiels
A single title for this Stockton icon and co-partner of our track is impossible to achieve, as his storied racing career can only be outlined with the old adage of "Been there—Seen That—Done It".
In 1955, at the age of 15, Ken became the youngest member of NASCAR on the west coast, working as a mechanic foe car owner Cos Cancilla of Concord. He stepped up to Pacific Coast Late Model Crew Chief duties for driver Bob Keefe of Yakima, Washington in 1958, with the team finishing third overall in the season standings.
After a stint in the United States Navy in the early 60's, he returned to racing as a NASCAR Sportsman car owner, competing at Stockton, Antioch, and Watsonville, with drivers Bob Link and Jerry Oliver behind the wheel, (both of who went on to West Coast Grand National fame).
In 1966 Ken foresaw the need for more Late Model racing in California and began promoting the Pacific Coast Late Models, which in turn earned him an advisory position with the Sears Point Raceway in 1968, which in turn brought him a role there of Vice President in 1969.
In June of 1978, he became chief Steward for the Pacific Coast Division, but left Shortly thereafter to assume duties as Marketing Manager and Public Relations Director for Autoweek Magazine, a position which required him to travel over 200,000-miles a year. In 1974, at the age of 34, he left Autoweek to return to the west coast and take over full operational control and management duties for Altamont Speedway.
In 1977, Ken bought out the interest's of Bob Barkhimer and his company B.B.A and took over the role of vice-president for NASCAR on the west coast. He continued to promote and direct the (now titled) NASCAR Winston West Series and has been the prime instrument of it's huge success in today's market.
Although his current role in racing takes him from the high banks of Daytona, to the land of the midnight sun, and the glamour of Wall Street, Ken still manages to get to 99 Speedway several times a year. "No matter what I've seen, there is nothing like the weekend short track for pure racing", says Ken. "It's where it all started".