(1991)
Ken Boyd of Ceres, LMS
Champion, 1991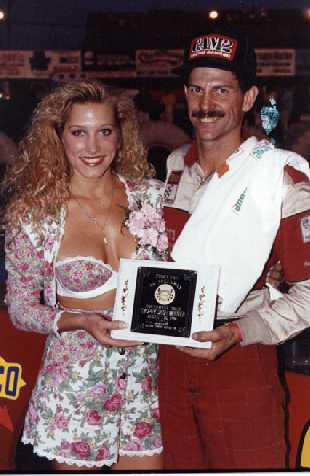 Ernie Irvan got area race fans into the mood early this season and took a major step forward in his Winston Cup career by winning the Dayton 500 in February.
Two long term items also ended early in the season this year. The first was a move by myself to Delta Speedway to work with Dale Pyeatt, a long time Stockton Speedway car sponsor, in his efforts to bring Mini Stock action to the Stockton area. The second item was the first feature win by Tracy's David Philpott. After sixteen long, dry seasons he nailed his first of 23 current wins.
New faces were added to the official staff this year in the form of Jim Cook, and retired late model racer John McCullom. Charlene Stoller took over the head scoring duties, while Ken Gross and his wife Michelle, the daughter of co-owner Ken Clapp, take over the track management duties and help guide Stockton 99 to two of it's top attendance years.
Track records were held to Street Stock drivers only this year, with Davey Reed setting one, and Greg Rayl five more, with the best by Rayl at 16.315 on May 11th.
'Mr. Quick', Ken Boyd, and 'Mr. Excitement', Kevin Gottula, each shared ten fast times in 91, with Brazil collecting seven dash wins. Boyd collected fourteen feature wins, and twenty-three main top five finishes to out-point Gottula, and Modesto's Bob Strandwold. It was the fourth straight title by Boyd, the first ever to run a string of four, as he joined Reed and Brazil with four titles in a career. 'Wild Wayne' Pierce of Stockton was king of the hill in preliminary event wins, and took the semi main title.
Thirteen Street Stock drivers shared in the twenty-five dash events, but the remaining numbers went to Greg Rayl as he picked up eighteen fast trips through the clocks, five feature wins, and fifteen main top five finishes to pick up the season crown. Ted Rouse, and Lodi's Bruce Riley run next in line in points. Larry Tankersley of Stockton, and Lodi's Robert Knittel also make their presence known this season.
Steve Barr of Brentwood is the season's rookie, with Philpott taking the most improved title. The 'Modesto Bullet' Bob Strandwold wins the Sportsman of the year award at the trophy dinner.
******************************
History Index