nine dash wins, and a division all time best mark of seventeen feature wins, including yet another division all time mark of eight main wins in a row He finished the year with nineteen main top five finishes and twenty-nine total wins to take the season title ahead of Tony Queirolo of Lathrop, Casey Stagno of Manteca, Marty Martin of Los Banos and Bill Muncell of Modesto.
Ralph Arnold of Merced notched eight dash wins for the Claimers this season, with Roy Berg of Stockton leading the main event action with five victories. Jerry Weaver of Modesto took the most overall wins at seventeen, with Arnold taking the season title over Martin, Weaver, Bob Liljedhal of Union City, and Herky
Jones, (Harry Crawford), of Fresno.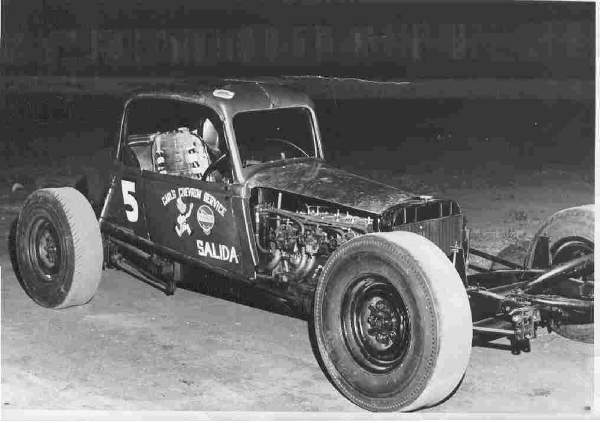 #5 Modified Hardtop of Gary Stagno. The Chrysler Spitfire slant six motor was built by Charlie Bell, who also built Jack McCoy's engine. This car was driven by Gary and Casey Stagno Sr. Casey Stagno II was the younger brother of Gary Stagno. These cars did laps of 16plus seconds for our paved quarter-mile oval..

***************************************************************************
(1964)
The only change to the division's this season was the dropping of the claimer rule for the companion division and a name change to Limited Sportsmen. A side note of history shows Altamont Raceway now open for business.
On May twenty ninth of this year, yet another of the future heavy hitters makes his mark as Tony Queirolo of Lathrop notches his first of 45 feature event wins.
On June fifth Jack McCoy collects his second career Modified four-way sweep and goes on a rampage of track speed records, lowering the standard three times this season to leave it at 15.60 on September eleventh. On July thirty-first, he collects a third four-way competition sweep to become the only driver on record to do so,
A 250 lap Limited Modified race was staged on September fourth, and won by Sam Davies of Modesto, as McCoy ended the season with twenty fast times for a division all time best mark. He also had eleven dash wins, fifteen feature victories, twenty main top five runs, and twenty-seven total wins on his way to his second straight championship at 99. He was followed in the stats by Queirolo, Dick Morrow of Manteca, Marty Martin, and Davies.
In the Sportsmen Claimer action, track records in speed were shared by John Viel of Concord, Mickey Allen and Bill Fenley of Stockton, Tony Myer of Modesto, and Ralph Arnold, with the best of the season going to Ferrell Jones of Turlock, at 17.25 on August 27th.
1964 was also the first season that saw the addition of the letter J next to the car numbers, as NASCAR sought a way to keep the cars in order from track to track. The J stood for San Joaquin Country, and was followed in suit by M for Merced, R for Roseville and so forth.
Claimer driver Bill Fenley became the first driver to notch a four-way competition sweep on June twenty-six and led the division this season with five fast times, as Arnold picked up twelve feature victories, twenty-one main top five runs and twenty-one total wins to grab the season championship. Other hot runners of 64 included second place point runner Tony (Keith) Myers, third place Steve Pasada of Stockton, Frank Barnett of Modesto, Lester DeOrnellas of San Jose, and Dilmas King of Modesto.
History Index