High Hopes as Pettit Finds Familiar Surroundings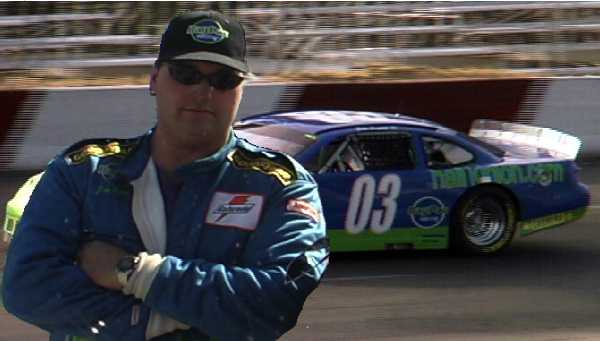 STOCKTON, CA (Monday, April 22, 2002) – For Jim Pettit II and the rest of the BayPac Racing Team, this week's chosen venue on the NASCAR Featherlite Southwest Tour will be a welcome sight.
For the first time since 1996, the Southwest Tour returns to Stockton 99 Speedway, a track that has been good to Pettit in the past.
Entering Saturday night's Stockton "125", Pettit occupies the 7th spot in the overall driver's standings in the #03 Hall Kinion.com/Career Builder.com Ford Taurus. Despite his disappointing 15th place finish at the Tour's last race at Mesa Marin, Pettit arrives at the season's 4th event with renewed confidence.
"We went down and tested last week and everything went pretty much according to plan," said Pettit. "It's a track we are very familiar with, so there weren't too many surprises."
Because he's been racing on the Southwest Tour full-time the past two seasons, Pettit hasn't had many chances to race on the ¼-mile oval since his dominant year in 2000 in the Late Model series. That year Pettit won 5 of the 9 feature events at Stockton, including all three of the track's Tri-Holiday events.
With that in mind, Pettit has high expectations for himself and the BayPac crew come Saturday.
"I definitely expect us to be one of the cars to beat," Pettit said. "We know that track as well as anyone, and anything but a strong run will be a disappointment."
BayPac Racing has once again signed Hall Kinion.com as their primary sponsor, and has also inked a secondary deal with CareerBuilder.com for the 2002 season.
Hall Kinion is a global leader in technology recruiting and placement and the leading talent source for the growing Internet economy. They provide specialized IT professionals on a short -term contract and permanent basis primarily to vendors of Internet technologies and, to a lesser extent, to users of intranets and extranets and can be found on the World Wide Web at http://www.hallkinion.com.
CareerBuilder is the fastest-growing recruitment powerhouse connecting employers with the right talent and professionals with the right jobs - in print and online. They can be found on the World Wide Web at http://www.careerbuilder.com.
Jim Pettit II Quick Facts
DRIVER NAME: Jim Pettit II
CAR: 03 Ford Taurus
RESIDENCE: Prunedale, CA
BORN: November 11, 1964
OCCUPATION: Owner of an automotive dismantling company
TEAM: BayPac Racing
PRIMARY SPONSOR: Hall Kinion.com
SECONDARY SPONSOR: Career Builder.com
CREW CHIEF: Duane Sharp
2001 NFSWT
OVERALL FINISH: 8th
2002 DRIVER STANDINGS: Currently 7th
---